Hello there! We are happy to present you a TourDash tour of September 2017 – Blakelands Country House tour. Blakelands Country House provides a venue for weddings or special occasions. It's a great place with quit a big amount of different locations. The virtual tour shows us all the areas. And hotspots photos demostrate how those places could look like during a real celebration.
The photos are live and atmospheric which makes the tour truly impressive.  Hotspots point out some little elements of events like the bride's bouquet or festive capcakes decoration. That is a nice visualization helping visitors to feel the future event and take a final decision about the place if they are looking for one.
Hope you enjoy exploring this tour!
[button target="_blank" style="" class="btn-default" link="https://live.tourdash.com/embed/a6f66a61663a4f50a0bd2f08e27493c4″]Watch Blakelands Country House Tour[/button]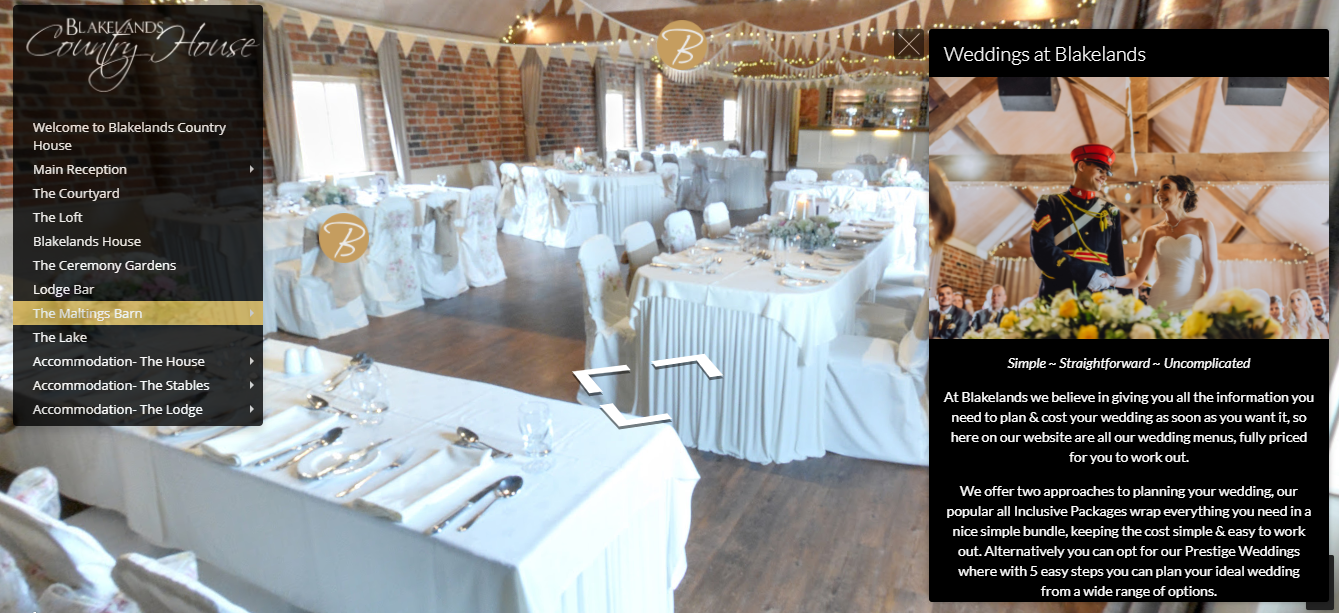 Tour was created by I See You Online agency. This is their fourth winner tour! So we desided to ask guys about their work and share with you this little interview.
— Hey guys! Thanks for the awesome tours you made. Tell us, please, how do you think what the main thing which makes a virtual tour interesting and effective is?
— I See You Online Ltd believes that the more interesting content the better. We try and identify as many interesting areas and features within a business and then add as much content as possible meaning visitors stay on our tours longer. It's also important to encourage our clients to keep the tours fresh and updated regularly.
— How do you come up with the design ideas of your tours? Like what do you base on taking a decision on coloring and hotspots decoration, etc?
— We encourage our clients to embed the tours onto their businesses websites. With this in mind it has to have the same natural flow of the company branding. We design each TourDash tour around the individual companies we work with.
— This is great! Hope to see your tours ever again in this column!
Need help?
Visit support.tourdash.com for all of our documentation. If you want to talk to us directly, you can reach out to us by sending an email to support@tourdash.com and we'll get you started!
Not a TourDash reseller?
Not a problem! Visit the TourDash Registration page and get started with TourDash today.
Want a virtual tour for your business?
If you are a business owner and you want to create an advanced interactive virtual tour for your business, using the TourDash features and functionality, you can find a trusted TourDash reseller in your area by using this list.