TourDash Platinum licenses will now have the ability to add an unrestricted amount of virtual tours into a single tour. This will allow you to create a large tour using several smaller tours. This feature is particularly useful when dealing with Hotels since they consist out a number of small tours.
Adding multiple tours to a single TourDash tour can be done through the advanced navigation feature.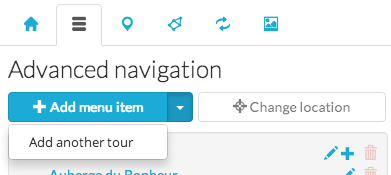 Add a tour to TourDash
Create a navigation item to identify the primary tour
Use the drop-down and select 'Add another tour'

You are still limited to the amount of hotspots in your license. If you feel like you need more hotspots. Please contact support@tourdash.com.
TourDash Multi-Tour is only available to Platinum licenses. If you have previously purchased a platinum license you will also have access to this update in your tour. Multi-Tour only works through adding a direct URL to the tour, do not paste your iFrame code, simply input the tour URL as if you were sharing it with someone.
For any questions related to the TourDash Multi-Tour Feature or for support with TourDash; Please contact support@tourdash.com.