Hello everybody! This post continues our regular column – TourDash tour of the month. As usually we've carefully investigated all the tours made by our resellers during the last four weeks. And we are happy to present you the winner: Zoo Burkart Tour!
There is one amazing thing about this tour – absolutely lovely boundary hotspots! They are designed as complete pictures with useful information about the shop according to the store theme and corporate style – a jungle. It looks really attractive and motivates to surf into the virtual tour more. Dynamic hotspots are in common style of the tour as well and are made as beautiful toucans – corporate symbol of the pet shop Zoo Burkart.
This tour contains a perfect amount of information and doesn't overweight visitors with text inside the hotspots. High quality of photos and bright decorating colors have made Zoo Burkart tour very pleasent to explore! 
Enjoy watching it!
[button target="_blank" style="" class="btn-default" link="https://live.tourdash.com/embed/f634c2c69993453582e6863018eb7e42″]Watch Zoo Burkart Tour[/button]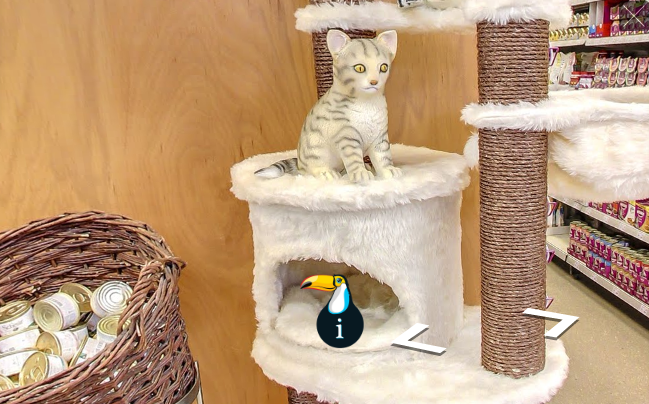 Tour was made by Kesselhaus Business View Agency
We're always keeping an eye out for the tours to find the most elaborated and interesting tour of the month. Although, if you're particularly proud of a tour, share it with us! If you have any tours you'd like to submit please send them to support@tourdash.com. If it wins we will show it in our blog and social media next month.
Thank you for working with TourDash! See you soon!
Need help?
Visit support.tourdash.com for all of our documentation. If you want to talk to us directly, you can reach out to us by sending an email to support@tourdash.com and we'll get you started!
Not a TourDash reseller?
Not a problem! Visit the TourDash Registration page and get started with TourDash today.
Want a virtual tour for your business?
If you are a business owner and you want to create an advanced interactive virtual tour for your business, using the TourDash features and functionality, you can find a trusted TourDash reseller in your area by using this list. 
We appreciate any and every comment we get so do not hesitate to write us right here under this post or on our Facebook page. Have a nice day!